Ron Jackson
President
Internet Edge, Inc.
Welcome!
The primary purpose of this site is to make it easier for people I have known over the years to find me! While working in radio, TV, the music business (and now the internet industry) I made many great friends and acquaintances, but unfortunately in the course of my journey I lost track of a lot of people I care about. The internet is the greatest communications tool devised to date, so I decided to use it to help restore some of those treasured connections.
The idea came to me when an old high school pal I hadn't heard from in decades contacted me after a Google search for Ron Jackson led him to my bio page at DNJournal.com (an internet trade magazine that my company publishes). I have a number of business sites on the web, but thought a personal site would make it easier for people like him to find me in the search engines. I have looked for many former acquaintances in that way myself and usually come up empty. If they had their own sites it would make the task much easier, so I am hopeful this site will demonstrate how useful personal sites can be in bringing people together, even when geography and time have pulled them apart!
Update: With the new communications era opened by Facebook, I can now be found there as well (with much more frequent updates). If we know each other, feel free to send a friend request there: http://www.facebook.com/ronjackson

What's New
January 2012

My daughter Brittany, after graduating magna cum laude with a degree in bio-chemistry from the University of Pennsylvania in 2009 is now nearing the end of her 3rd year of medical school. Penn was founded in Philadelphia by Benjamin Franklin in 1740 and is a founding member of the Ivy League. The nation's first medical school was founded at Penn as was the first business school (Wharton).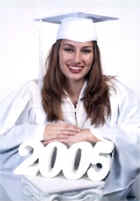 Brittany was a straight A student and Senior Class president at Tampa's Hillsborough High School. Newsweek magazine ranked Hillsborough as the 10th best public high school in America.
Brief History
I am currently the President of Internet Edge, Inc., a web publishing company I founded in 2000 to launch the third career I have crammed into one lifetime! Details are in the Bio section but in brief, I began as a radio-TV broadcaster in the late 60's and spent the next 20 years in that profession (most of it as a TV sportscaster in Florida's beautiful Tampa Bay area). In the late 80's I moved into the music business by opening the first in a chain of record stores that I operated until 2000. After opening a website for the music business in 1997, I became fascinated with the boundless potential of the internet and by 2000 I had decided opportunities on the web were so exciting that I wanted to spend all of my time pursuing them. Five years later, I have no regrets about that decision, in fact I'm more excited than ever!
Site Highlights
A look back at a lifelong adventure that led from a small Midwestern town (Delaware, Ohio) to a tropical paradise.
Details on what I am up to now.
My family and why I am so proud of them.
Friends, including some from the past I would like to locate - maybe you can help me find them!
A news archive with the items that previously appeared in the What's New box on this page.
Photo gallery
A little about Tampa, my hometown for the past 22 years.
Links to my various business and personal sites.